I Burn For You is an experimental opera work, devised by Irish composer Ian Wilson, initially in response to a commission by Aldeburgh Music / Faster Than Sound in 2011. A new version of the piece toured London, Liverpool, Nottingham and Gateshead in October 2015.
The piece is an adaption of Bram Stoker's Dracula story, featuring Hungarian black-metal singer Attila Csihar in the role of the Vampire. Other performers in the piece are Phil Minton (The Doctor); Lauren Kinsella (The Woman, 2015); Elaine Mitchener (The Woman, 2012); and musicians Clive Bell, Cathal Roche, Lee Patterson (2015) and David Toop (2012). The stage director in 2015 was German opera director Christian Marten-Molnár.
I was asked by Ian Wilson to provide video scenography for the piece in its first performance in Aldeburgh in Feburary 2012. During a week at Snape Maltings the improvising musicians worked out the structure of the piece, and I roamed the snow-covered fens and shore capturing footage to use in the performance.
The improvised structure of the piece means that a pre-recorded video track would be no use; the projections need to be cued live, in response to the timings and dynamics of the piece as performed by the musicians. I decided to use VJ software in which clips could be loaded and sequences assembled and then triggered live, so that the different scenes could expand or contract according to requirements. Additionally, rather than using a single projection on a flat cyclorama at the rear of the stage, I decided to use two projections, one at an angle to the other, to bisect the stage and create some sense of space and depth.
The projections are also overlaid, montaged so that shots flow into one another and there are no hard cuts; a dreamlike space is invoked, which connects to the state of trance inspired in the Woman by the Vampire. Colour, movement and stasis, natural and man-made elements, light and shade, and the interplay between all of these become key elements.
When the piece was peformed again in 2015 an entirely new set of projections was prepared; the original footage had been shot in Standard Definition (4:3 — some of it was transferred from 16mm) which was no longer compatible with the HD video equipment that I'm now using.
Material for the 2015 tour was shot in France, at the Nazis' massive submarine pen in Bordeaux, and at a ruined 11th-century church near Bergerac; and in London (a notable location was the remarkable sculptural group, depicting eight Oceanids and their seahorses, in the gardens of York House, Twickenham).
The particular workflow that I developed, and the method of overlaying and montaging multiple clips live, are approaches that I'm now using in my own work, most obviously in the Temple of Hercules project.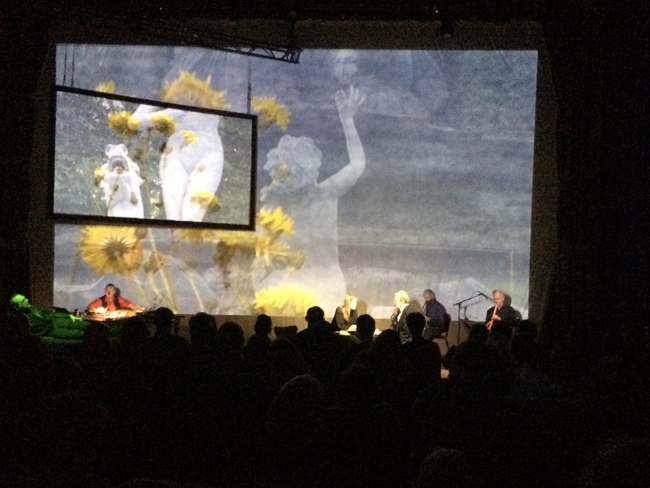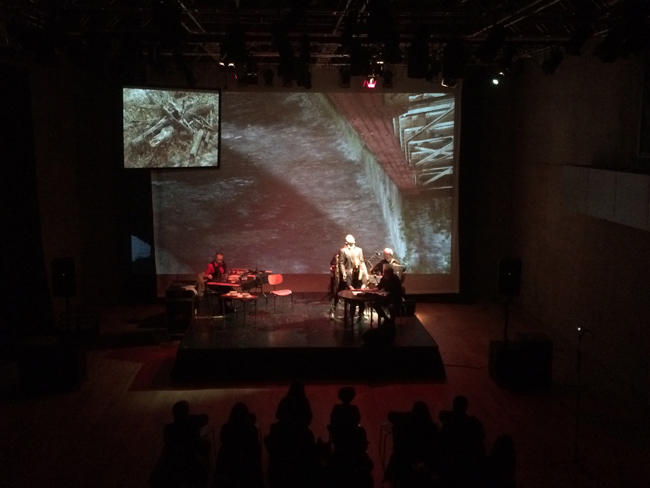 © Daniel Jewesbury